In the future web will be your personal computer; replacing your old desktop, laptop and mobile. The web will simplify your life considerably and preserve ownership of all your products, sensors and intelligent artifacts. It will become an integrated part of your life where you and your things will be globally accessible by "anything".
By anything means a collective consisting of people, machines and intelligent objects. The web will make you part of the collective and the collective will become part of you; being one common giant computer. You will be part of this computer controlling access rights and sharing capabilities. You and your things are always online.

Today we already see tendencies using cloud based solutions. One example is to share information between smart phones, PCs and small gadgets like heart rate monitors and temperature sensors. There are also known applications illustrating this cloud concept like Dropbox, where you can share personal files with friends regardless if it is a PC, smart phone or tablet. For those who are familiar with programs like Dropbox, we know that these programs simplifies life by freeing you from the need of maintaining many copies of the same file everywhere.
Cloud concept illustrates this quite well when one can share original files between electronic devices and thus save costs both on data traffic and integration with other Apps. But cloud concept is just the beginning. One will be able to share everything with everyone in the near future; and "everything" will have identities online. This can be done by making the web common for anything. The internet of everything. I will explain the final obstacle before everything can be online:
Operating systems today does not work
Looking at some "internet of everything" solutions of today the data is shared through a well-defined interface (API). In order to communicate back and forth this interface needs an operating system that can manage network control; so that data packets from various domains can address each other globally. In smart phones this is done by installing Apps on top of an operating system like Android, ensuring that the running App can communicate with external programs over the network. Similarly, your PC uses the Windows operating system that makes sure the web browser and other programs can communicate through the network as well.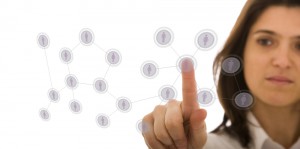 The disadvantage of using API communication between Apps is that one must have an operating system installed locally at each end-point. This means that once you have sent or shared data with another App that uses another operating system, the data that was transferred to the App needs to be copied. The reason for this is to prevent you form loosing the data while the system sends a message back telling the sender that the App received the data successfully. Today, this is how the internet basically works all over the world and how operating systems handles input and output related operations for Apps and programs. This implies that if your data is shared with billions of other Apps on different devices, each App needs an operating system that handles the networking session and each one of them must make a copy of the data. Sounds like waste?
Another way of looking at it, is that the data is "lost". Once a system that is not under you control make a copy of the data, the data is no longer unique. It looses its value. Lets say you have some temperature sensors that report temperatures in a city. This data has a value and some system could use this data to determine the weather condition for the next day. Creating even bigger value for the end consumer. The problem is that once the data from the sensor has been shared, it looses its value since there will be a lot of copies in the network. And you can't put a price tag on the data since somebody else may give the copy away for free…
Another downside to current web is the need to recharge your mobile device every day to be online because the operating system consume a lot of power. Manufacturers of cool gadgets have a great challenge on developing new devices, especially small sensors, because it requires an operating system on the small sensing chip. This results in unpractical and continuous charging of small objects/things.
Friend OS works on everything
A new operating system that is under development is called Friend ( https://friendos.com/ ) Friend OS is a Norwegian initiator of an open source project that aims to develop a meta operating system for web. Apps can be developed on top of this operating system and work on any devices, also small ones without any graphical interface.
The App and the Friend OS run from a remote location using the same network address as the device. So from a network point of view it seems like the device is doing the communication. This also work with multiple underlying data linking. Much like how the hyperlinking on the web is working today: When you visit a webpage there are links to many underlying webpages that on request loads information from multiple webpages. The webpage you visit act like the presentation layer of all underlying information that are presented to you. Apps on Friend OS works the same way; the functionality of the operating system is part of the App you are visiting and can easily share data with other Apps using Linked Data. This can be done ad hoc without any programming or installations. For the small devices this means that small chunks of data can be transmitted since the App and Friend operations can be run from anywhere. All operating system related tasks, such as access control and addressing data packets, is done by Friend OS far away from the small device. In this way the small device becomes an micro entity, a virtual representative, in the network and does not need to consume much power.
Friend also serves as a common operating system where all other operating systems can be merged together. Imagine that you have files on your PC, some files on your mobile and some on your iPad. Through FriendOS these files are available and run Apps from the other units interchangeably. Another attribute with FriendOS is that web becomes a part of your file system. This means that you can provide access to files that your friends can read while preserving ownership. So if your friends share the file further with their friends you can still retain your ownership in the global network. Thanks to the data being protected by Friend in the network, and the data preserving its value, it will be possible to make money on your data located inside documents own by others…
FriendOS can control all your devices. Since the web is a global network this means in practice that you can control your things anywhere in the world. You place a sensor on the other side of the world and make money in the network by sharing data with other systems. The fresh data from your device is owned by you and is available from Friend Apps or programs anywhere.
It will be interesting to follow the development of FriendOS and how it will transform the IT systems and the global marketplace. As anyone can make money on data in the future.